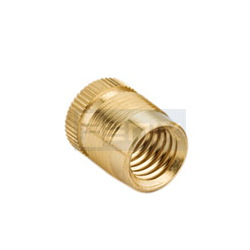 Brass Straight Knurled Inserts
Brass Straight Knurled Inserts
We manufacture a wide range of brass knurled inserts, which are available in different outer surfaces like Straight Knurling, Diamond knurling and Crossed knurling for better grip in plastic molding. Also Brass Hex Inserts are available in our product range for customer's special requirement.
We also manufacture inserts as per customer's design and specifications. The inserts are available in sizes from 2 mm to 50 mm diameter.
The inserts are available in different finishes like Brass natural, Electro-Tinned and Nickel plating.
We are Manufacturer and Exporter of Brass Insert, Brass Insert with Collar head, Brass Press in Insert, Brass Press in Insert for Hot Cold Dip, Brass Inserts Straight Knurl, Brass Inserts Diamond Knurl, Double Groove, Single Groove, Brass Canopy Inserts, Brass Inserts Blind, Cross Knurled, Brass Ultrasonic Collar Inserts, Brass Conical Inserts, Brass Tri Slotted Extra, Gripping Thread Inserts, Brass Inserts Special with Tail, Brass Press in Insert with Collar Head, Brass Inserts with Fine, Diamond Knurling, Brass Pillar Insert.